Chocolate Therapy Mask
Chocolate Therapy Mask activates and stimulates all capillary functions
Aromatherapy. Salt And Sulphate Free
Presentation: 500 ml bottle.
Indications: Hair exposed to the sun and outdoors. Prevents photo-ageing and the formation of free radicals. Cold effect
PROFESSIONAL PRODUCT = HIGH EFFICACY INDEX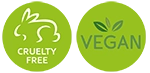 DOES NOT CONTAIN:
PARABENS
PERFUME ALLERGENS
SILICONES
GENETICALLY MODIFIED PRODUCTS
INGREDIENTS OF ANIMAL ORIGIN
PHTHALATES
NANOMATERIALS
MINERAL OILS
SALT
SULPHATE
INDICATIONS for the Chocolate-Therapy Mask
The Chocolate-Therapy Mask is a high molecular weight emulsion for the deep treatment of dehydration and malnutrition of the hair fibre and scalp, with anti-oxidant properties, which prevents the formation of free radicals.
Prevents photo-ageing. Contains flavonoids with regenerating and restorative properties.
Its careful formulation incorporates an active ingredient that contracts the follicular sacs of the scalp and activates the superficial peripheral circulation. COLD EFFECT. AROMATHERAPY.
To provoke the passive gymnastics of the scalp and activate and stimulate all the capillary functions, apply the VOLTAGE CHOCO-THERAPY SHAMPOO with HEAT EFFECT beforehand.
HEAT = VASODILATION.
COLD = VASOCONSTRICTION.
Substantive Solar Filter.
RELAX AND ENJOY THE APPLICATION
Dose on the palm of the hand approximately 10 ml. (2-3 pulsations).
Apply directly to previously washed hair.
Massage gently.
Leave on for 10 minutes.
Enjoy the chocolate aroma that envelops you.
Does not stick to the hair.
Rinse thoroughly.
For perfectly treated hair, repeat the entire method once a week. CHOCOLATE THERAPY SHAMPOO + CHOCOLATE THERAPY MASK.
Its use may cause a slight reddening of the skin since it activates the superficial peripheral circulation.
WARNINGS
Do not ingest. External use. Avoid contact with eyes. In case of that, rinse immediately with plenty of water. Consult your hairdresser.

Hair

Normal hair
Thick hair
Thin hair

Length

Long
Medium
Short

Hair type

Damaged

Product Type

Mask

Treatment

Moisturizing
Stimulating

Size

500 ML

Therapy

Choco-Therapy
Me gusta mucho

Me gusta un monton
Customers who bought this product also bought: