BIO-DETOX Shampoo + Mask PACK
It is designed to moisturise, pamper and care for hair in a totally NATURAL way
With biological and 100% organic active ingredients.
Presentation: 2 bottles of 250 ml. in an ORGANIC bag.
Indications: All hair types
PROFESSIONAL PRODUCT = HIGH EFFICACY INDEX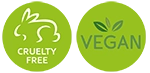 DOES NOT CONTAIN:
PARABENS
SYNTHETIC COLOURANTS
PERFUME ALLERGENS
GENETICALLY MODIFIED PRODUCTS
INGREDIENTS OF ANIMAL ORIGIN
SILICONES
PHTHALATES
NANOMATERIALS
MINERAL OILS
LOW SALT AND SULPHATE CONTENT
BIO-DETOX Shampoo + Mask INDICATIONS
BIO-DETOX Shampoo + Mask is an exclusive treatment designed to wash, pamper and care for hair in a totally NATURAL way.
It incorporates a state-of-the-art anti-pollution active ingredient, which protects the hair fibre from damage caused by chemical substances, heavy metals, UV rays, intra and extra cellular contamination, while preventing oxidative stress, inflammation and premature ageing.
It contains BIO argan oil, ORGANIC rosehip oil and green tea, which neutralise dryness, help regenerate tissues and block the action of free radicals.
Generally, the choice of this type of product goes hand in hand with a CHANGE IN LIFESTYLE.
RELAX AND ENJOY THE APPLICATION
Dose 5 ml (2-3 pumps) in the palm of the hand.
Apply directly to wet hair.
Massage gently.
Enjoy the aroma that envelops you.
Does not stick to the hair.
Rinse thoroughly with water.
For perfectly treated hair, repeat the entire treatment once a week: GREEN TEA SHAMPOO + GREEN TEA MASK.
WARNINGS
Do not swallow. External use. Consult your hairdresser.
Hair

Normal hair
Thick hair
Thin hair

Length

Long
Medium
Short

Hair type

Natural

Product Type

Mask
Shampoo

Treatment

Detox

Size

250 ML
Customers who bought this product also bought: