Stain Protector Oil
Stain Protector Oil
Protective Anti-spot Oil Protects and cleanses the skin (hair contour). Aromatherapy.
Presentation: 150 ml bottle.
Indications: All skin types. Protects against unpleasant colour stains.
PROFESSIONAL PRODUCT = HIGH EFFICACY INDEX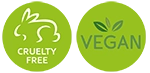 DOES NOT CONTAIN:
SALT
SULPHATE
PARABENS
SILICONES
TRANSGENIC PRODUCTS
PHTHALATES
INGREDIENTS OF ANIMAL ORIGIN
NANOMATERIALS
MINERAL OILS
PERFUME ALLERGENS
INDICATIONS for Stain Protector Oil
Stain Protection Oil is a water-soluble oily solution containing a mixture of essential oils that protect the skin (hairline) from unpleasant dye stains.
Its emollient active ingredients protect the skin from the aggressive action of the dye due to its high ammonia content. In addition, its complex formulation incorporates a cleansing effect that removes any dye stains WITHOUT IRRITATION. It avoids uncomfortable redness of the skin.
Its perfect dosage makes it a very easy to apply product, as well as very professional and hygienic. AROMATHERAPY.
Substantive Solar Filter.
RELAX AND ENJOY THE APPLICATION
Before the first application, remove the valve-precinct located on top of the dosing sponge, and throw it away.
With the bottle upside down, gently apply the product all around the hair and ears.
Apply the dye.
Wait for the exposure time.
Thanks to its water-soluble formulation it is easily washed out with water.
Enjoy the VOLTAGE scent that envelops you. Does not fix on the skin. Always use before any colouring technique.
WARNINGS
Do not ingest. External use. Avoid contact with eyes. In case of that, rinse immediately with plenty of water. Consult your hairdresser.
Fenomenal

Me encanta este producto, huele super bien y la tacha de tinte desaparece super bien, las clientas encantadas con su aroma
Customers who bought this product also bought: